Okay, let's wrap this shit up real quick, okay? Parts 1 and 2 here and here. I'm gonna try to be more brief just so I can get this out on time for people to actually use. If you are an artist represented here, don't worry, I love you, just sometimes I'm not good at things.
Dr. Awkward
My love for Doc Awk is well-documented. Along with the previously mentioned Kabuto the Python, Doc Awk was part of a new wave of incredibly talented nerdcore artists that shook up the scene and injected some much needed new life.
What You Should Buy:
Ranking Dr. Awkward's albums would be pretty tricky to do, but there is no doubt that Blank Pages has the best album art. Damn, that's dope. Blank Pages also works as a good primer to Doc Awk, expertly balancing his nerdy raps and socially conscious raps, but without the heavy weight of finality hanging over the proceedings that is found in Last Gen. "Now Hiring (ft. Schaffer the Darklord)" is the most enjoyably geeky experience on the album, telling the story of a superhero and villain meeting up, but through the medium of Craigslist ads. Catchy and brilliantly envisioned and conceived. On the other range of the spectrum is the absolutely devastating "Alchemy". No one in the entire nerdcore game has quite the same pen as Dr. Awkward, and when he's on, as he is for much of this album, he is truly unbeatable.
What I'm Going To Buy
I really can't explain why I never heard one of my very favorite rappers do an album about fucking Zelda, but I haven't. This shall be corrected forthwith! Let me make this clear, it's an album of The Legend of Zelda, specifically Ocarina of Time I believe, and not necessarily about engaging in sexual intercourse with the titular character. Though I wouldn't be surprised if that came up.
Fatty
Like most non-cis-male nerdcore artists, Fatty isn't the most well known, but they are a force to be reckoned with.
Aw shit, I'm just now noticing the iron throne is made of pencils. Shit, I really should look at album art up close more often. Or maybe I should get my eyes checked. My work will be giving me bennies in a couple months, and visual is part of the plan. Maybe I should have those looked at. Hmmmm.
Fuck, anyway, Old Bad Habits is an absolutely terrific album that you should buy right now. It's short, it's sweet, there's no filler and it's almost entirely killer, get it. "Sweetie Pi" incorporates the first 50-odd digits of pi into neurotic story of love won and lost – it's truly phenomenal. "Where We Left Off" is a heartbreaking track about the loss of a brother to a mysterious disease, and it… wow. It really is something else. Shatteringly specific, but also universal in emotion. A tour de force in under 5 minutes. And "Accio (Nerdy Girls)" has some of the most clever nerdy rhymes in history, along with lines about coping with dysphoria – "My dysphoria is scary, huh? / What's mines is yours – the Moria the merrier". And that's not even the most clever line in that song. It is fantastic. Buy this album.
What I Will Buy:
I haven't heard Daily Heroic at all yet, partly because Old Bad Habits is so good I'm kinda worried to try out Fatty's earlier stuff. The time for such fear is over.
OldStyle
A brother-sister duo turning classical music into poppin' chiptunes. Yes. Of course. Obviously. Nine times.
What You Should Buy:
The eponymous and so far only album from OldStyle is six tracks of baroque music turned into modern chiptune dance hits. It's incredible. I'm really not that qualified to say more than this shit always gets me dancing, and it's good, and I like it, so maybe give it a buy? Yeah! I am a professional reviewer!
What I Will Buy:
DJ Cutman is one half of OldStyle, and is a prolific chiptune artist and video game remixer. Chiptune Hero, Volume 2 is a short and sweet collection of tunes that I will be purchasing along with OldStyle, since I had previously only listened to both via streaming. Highlights include the gameboy soundfont cover of "I Need Your Love" and discovering the odd beauty of that accapella "Mmmmm Whatcha Say Song" done as a chiptune.
The Megas
I love Mega Man. You already know this. As with many things, what made me fall in love with Mega Man was the music. The Megas are somehow not the only band to make character-focused rock operas about the NES classic series, but they are the only one on bandcamp, and also, I actually like The Megas a bit more than the also superb Protomen. The Protomen have incredible musicality and epic scope in story telling, but The Megas craft more intimate, easier-to-follow stories, all set over great covers of the classic NES soundtrack original songs. These songs work great on their own, or muttering to yourself along with the music as you try to beat Quickman's stage without the Time Stopper.
Mega Man 2 is the best classic series Mega Man, and if you disagree, you're wrong. Likewise, Get Equipped is the best Megas album, or at least the best one to start with, just like the game its based on. Every track is solid rock n roll fun, with lyrics that love to paint a portrait of a deeply conflicted an ironic existence for these 30-year-old characters. I'm gonna be honest – I'm running out of steam for creativity and writing today, sorry. I have many thoughts about The Megas but maybe you will get to read them some other time. The Airman song is great, the Bubbleman song is strangely moving, and the Quickman and Crashman songs are both fucking excellent. No links for you, just trust me already. Damn, probably shouldn't have finished that week-old can of hard rootbeer at 4 in the afternoon.
I'm gonna buy this: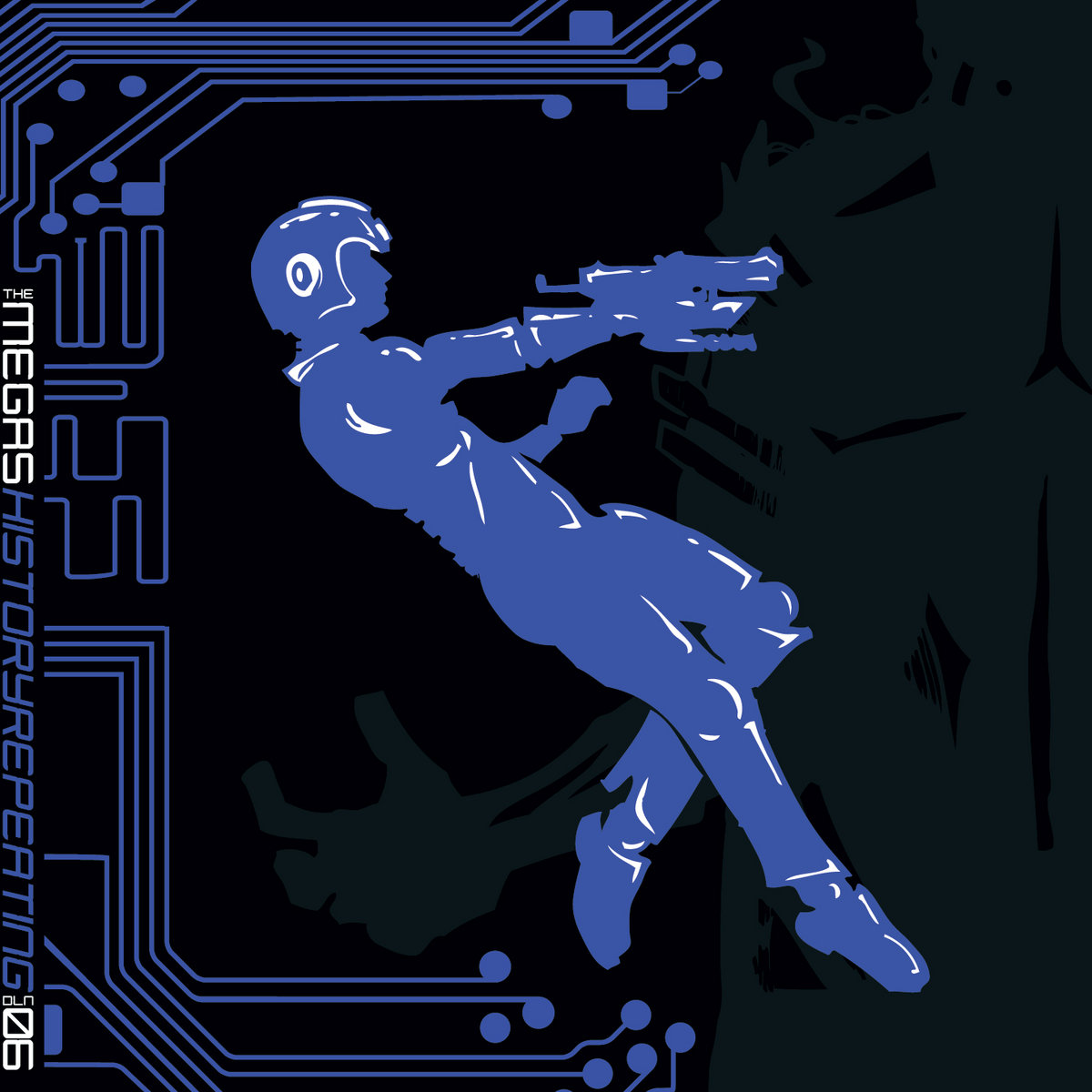 Here is a link fuck embedding things like a fancy person: https://themegas.bandcamp.com/album/history-repeating-blue
Wow I am really really tired sorry everyone.
Lastly if you like Electroswing go check out Odjbox. Get the free Swamp Stomp EP and buy the excellent Oak Sessions.
http://music.odjbox.com/album/swamp-stomp-e-p
http://music.odjbox.com/album/oak-sessions
goodnight